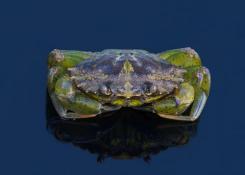 When Dr. Ian Gardner took up the position as the Canada Excellence Research Chair in Aquatic Epidemiology, he knew he was joining an already strong team of researchers at UPEI's Atlantic Veterinary College.
"Truly, that was part of the appeal for me," says Dr. Gardner. "The expertise here in fish health and veterinary epidemiology is second to none in the world."
That's why Dr. Gardner likes to refer to the group around him as the CERC team: a group of researchers—each a leader in her or his specific area.
"One area I thought the CERC team could expand to was economics," says Dr. Gardner. "That's why I am pleased to say we've acquired just that expertise in Dr. Kehar Singh."
Dr. Singh is an agricultural/resource economist in the Department of Health Management at the Atlantic Veterinary College. He comes from the University of Arkansas at Pine Bluff where he was a research associate for four years in the area of aquaculture/fisheries economics and marketing. He earned his PhD in agricultural economics from Punjab Agricultural University, in Punjab, India. Before joining the University of Arkansas at Pine Bluff, he worked as an assistant professor (fisheries economics) for six years in the Central Agricultural University, HQ Imphal, India.
"I have expertise in marketing research, economic impact assessment, econometric and policy analysis modeling, production economics including efficiencies," says Dr. Singh. "There are several projects already on the go here at the AVC. I'm very excited to get involved, and I look forward to developing projects of my own."
Dr. Singh, along with Dr. Mary McNiven, professor of animal science, and Dr. Sophie St-Hilaire, Canada Research Chair in Integrated Health Research for Sustainable Aquaculture, plans to investigate the potential of a fishery for the invasive green crab. This introduced species is a nuisance to Island aquaculture, but if a sustainable economic case can be made for a fishery, this nuisance species could become an asset to Island fishers.
Dr. Singh, along with Dr. David Hall, associate professor (animal health economics), University of Calgary and Dr. Jeffrey Davidson, professor (aquatic and ecosystem health), University of Prince Edward Island, is working on a project to assess the potential economic impacts of Multinucleated Sphere Organism (MSX) on the PEI oyster industry should it be found here. MSX is an oyster disease that has had a devastating impact on the industry in the Bras d'Or Lakes, Cape Breton."The results of the project will be useful for providing economic justification for designing preventive strategies, and the research and development projects on MSX disease," says Dr. Singh.
"I also plan to do an economic evaluation for salmon-management policies and strategies for New Brunswick," explains Dr. Singh. "It's interesting to me, as an agricultural economist, to see how little competition there is on the supplier side of this industry in Atlantic Canada. There are very few producers, and those we do have are very large."
Dr. Singh will also assist the strong team of veterinary epidemiologists working at the AVC. "I'd like to add value to the data they have already worked with and processed, which is difficult to do for data collected for a specific purpose. I think, however, there is a real opportunity to examine some of these projects from an economic stand point.
Dr. Singh's work won't be limited to that in the CERC team. His expertise in econometric and policy analysis models make him a valuable asset to students in several departments. He's also excited to join the existing teams for the Canadian Bovine Mastitis and Maritime Quality Milk.
"The Economics of Aquaculture" - UPEI Research Services blog post - July, 2013