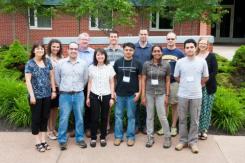 The final module of our 3 part summer educational conference concludes this afternoon.
For the past 4 days, 10 participants were engaged in a course entitled "Data Mining and Knowledge Discovery – an introductory course with focus on veterinary epidemiology applications", instructed by Fernanda Dórea, BVM MSc PhD, Swedish Zoonosis Centre, Department of Disease Control and Epidemiology, National Veterinary Institute (SVA); and Crawford Revie, BSc MSc PhD MBCS, Canada Research Chair - Population Health: Epi-Informatics, Professor – Epidemiology, Department of Health Management, Atlantic Veterinary College.
Epi on the Island is a successful program, which has been running for a number of years, that brings researchers and graduate students from across Canada and around the world to UPEI for intensive course work in epidemiologic methods.
Participants this week are from Chile, Iran, Scotland, Thailand, the United States, Saskatchewan and Prince Edward Island.