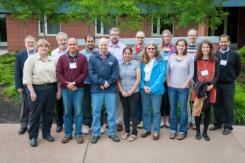 Part 1 of our 3 part Epi on the Island conference concludes at AVC this afternoon. For the past 3 days, participants have been engaged in the course "Introduction to Bayesian Risk Assessment."
This 3 day course was instructed by Curtis L. Smith, PhD, Distinguished Staff Engineer, Idaho National Laboratory, Idaho; Javier Sanchez, DVM, PhD, Associate Professor - Epidemiology, Atlantic Veterinary College; and Henrik Stryhn, MSc, PhD, Professor – Biostatistics, Atlantic Veterinary College.

Epi on the Island is a successful program, which has been running for a number of years, that brings researchers and graduate students from across Canada and around the world to UPEI for intensive course work in epidemiologic methods.

Participants this year were from Columbia, Massachusetts, Mississippi, Nepal, the Netherlands, Ontario, Pennsylvania, Saskatchewan, Spain and Texas.
Module 2 gets underway on Monday morning, June 17th. Twenty three participants are registered to participate in a 5 day course entitled "An Introduction to Multilevel Modelling".