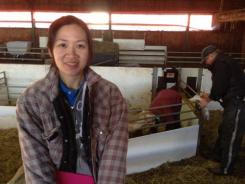 Niorn with Bernice and Dean Good, owners of one of her cooperating flocks in Winsloe PEI. Bernice and Dean are weighing a set of quintuplets from one of their productive Rideau cross ewes.
Dr. Niorn Ratanapob joined the CVER team last January. She came to us from a faculty position at Faculty of Veterinary Medicine, Kasetsart University, in Bangkok.
Her project here at UPEI will build on her established expertise in small ruminant medicine: she will be investigating the major causes of perinatal mortality in sheep using both epidemiological and laboratory techniques. Her supervisors are Drs. Jeff Wichtel and Shawn McKenna. The PEI Sheep Producers' Association, Agriculture and Agri-Food Canada Growing Forward II Program, Kasetsart University, and UPEI fund this project. Niorn is a recipient of a coveted UPEI Regis Duffy Graduate Scholarship.
The Memorandum of Understanding between UPEI and Kasetsart University is 16 years old, and has been one of our most productive inter-institutional agreements. Niorn is the fifth faculty member from Kasetsart to pursue a doctoral degree at UPEI; one of our earlier doctoral graduates (Dr. Pipat Arunvipas) is now Niorn's Department Chair and a successful independent researcher in his own right.