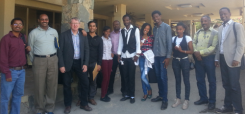 Some of the DVM students involved in the field trial, together with colleagues at a project workshop in Dec 2014 hosted by AVC/CVER and Cojengo
As many readers will be aware, a number of CVER members, including our current Director, have had long-standing collaborations with colleagues in Kenya, with whom they have carried out a range of research projects, particularly focused around issues of importance to smallholder dairy farmers. A successful proposal which obtained funding from the International Development Research Centre (IDRC) earlier this year, has led to the extension of animal health research into the neighbouring East African country of Ethiopia.
The IDRC project entitled, "Evaluation of a smartphone app to improve disease diagnosis, surveillance and treatment of cattle in rural Ethiopia", involves colleagues from Vets Without Borders (VMB) and a commercial partner, Cojengo Ltd; together with researchers from Addis Ababa and Dalhousie Universities, as well as local AVC members of CVER. The project is led by Crawford Revie, who is heading to Ethiopia this week to complete the data analyses linked with the first set of field trials conducted since the start of the year.
At the heart of the project sits VetAfrica, a smart-phone based mobile app that can be used to support the diagnosis of cattle diseases in a range of settings in sub-Saharan Africa. The app also acts as a passive surveillance device, as all of the data collected are uploaded to the Cloud and can then be used in a number of ways; for example, as part of a syndromic surveillance exercise. During the first four months of 2015, fifteen final year DVM students from Addis Ababa University's College of Veterinary Medicine and Agriculture agreed the use the VetAfrica app as part of their clinical rotation. The students were assigned to one of three regions within Ethiopia and used the app in rural settings to support their differential diagnostic practice during the course of their field work. By the time they returned from their rotations the students had used VetAfrica to collect almost 1,000 cases from cattle in 13 different locations. They also collected sample material from around half of these sick animals which is currently being analysed by a number of laboratories in Ethiopia to provide a 'gold standard' against which the diagnostic performance of VetAfrica can be assessed.
Initial results are very promising. Using the diagnoses made by the DVM students as the 'correct' outcome (while we await the final laboratory results) it was found that the suggested diagnosis made by VetAfrica matched this outcome in between 30% to 96% of cases, depending on the disease in question and the way in which 'marginal' cases were considered. The median accuracy (across diseases) of over 70% was impressive considering that this is the first time the app had been used in Ethiopia. The diagnostic inference engine uses a data-driven machine learning approach and as such will only improve in terms of accuracy as more cases are recorded by local users of the system.
It is planned to present a more complete report of the first year project results at the ISVEE conference later in the year. However, apart from the issue of app accuracy the project has already uncovered some interesting findings, including a clear breakdown of proportional morbidity by cattle disease and how this varies across various landscapes in Ethiopia. While 12 common cattle diseases were already included within VetAfrica, the trial has identified an additional three diseases which between them accounted for around 10% of the total cases, and research has been initiated to allow these three diseases to be added into the diagnostic engine.
By: Dr. Crawford Revie, Atlantic Veterinary College, UPEI, May 28, 2015.