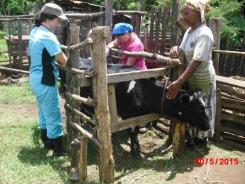 Krista Simonson and Emily Egan examining a cow with the owner watching
Successful Start to a 4-year Dairy Project with Naari Dairy Co-operative Society in Kenya
University of Prince Edward Island (UPEI) and Farmers Helping Farmers (FHF), a charity based in PEI, have begun an exciting new 4-year chapter in their ongoing efforts to improve the livelihoods of smallholder dairy farmers in central Kenya. They were recently successful in obtaining $500,000 from the Canadian Queen Elizabeth II Diamond Jubilee Scholarships program which was created in June 2014 in honour of Queen Elizabeth's 60-year reign. It's a joint initiative of the Association of Universities and Colleges of Canada (now called Universities Canada), the Rideau Hall Foundation, and Community Foundations of Canada, with financial support from the federal government, provincial governments, and the private sector. The goal of the program is to help commonwealth countries train future leaders in development, known as Queen Elizabeth scholars, while providing assistance to developing commonwealth countries. Canadian university students participate in internships and study opportunities in various Commonwealth countries, and international students from those countries will pursue graduate studies in Canada and apply those new professional skills when they return to their home country. The successful four-year proposal was developed by Dr. John VanLeeuwen and Dr. Jeffrey Wichtel of UPEI's Atlantic Veterinary College (AVC) and Teresa and Ken Mellish from FHF.
The project started in May 2015 when the first two of eight veterinary students (2 per year) from UPEI, Krista Simonson and Emily Egan, traveled to Kenya to collect baseline information on local farms and to develop and deliver training programs in cattle health management for 3 months. The training was conducted in the Naari region of Kenya and training methods included verbal and written communications and demonstrations, and train-the-trainer for both Naari farmers and Naari Dairy Group personnel.
The two Canadian students were joined by two Kenyan veterinarians, Drs. Joan Muraya and Dennis Makau, who have been selected to complete Ph.D. degrees at UPEI. Their research projects will investigate methods of improving reproductive success through hormone therapy and sexed semen, and improving cattle nutrition through drought-tolerant leguminous trees, respectively. The two Kenyans will arrive in Canada in August 2015. When they finish their PhD programs, they will become professors at the Faculty of Veterinary Medicine at the University of Nairobi in Kenya, a partner on the proposal.
Dr. VanLeeuwen joined the two students for the first 3 weeks in Kenya to provide in-country orientation on the culture, the partners, the available resources, and the activity protocols. During this time, the group visited nearly 50 farms. The group examined all the cattle on the farms (ranging from 1 to 10 cattle), administered donated medicines to sick animals that required treatment, conducted reproductive checks and treatments where needed, and gave advice on how to manage their cattle better. The group received very warm receptions from the farmers who were excited to be randomly selected to be active participants in the project, offering the vet team cups of tea, fruits and vegetables, eggs, and even a couple of chickens.
In 2016, 2 more veterinary students will travel to Kenya to conduct training on other cattle health management topics for 3 months. They will be joined by the first 2 of 6 nutrition students from UPEI. Kitchen gardens will be developed at two schools twinned with Canadian schools through Farmers Helping Farmers and also on women's group farms. Since cell phones are commonly used in Kenya, the traditional training methods will be augmented by cell-phone transmission of biweekly information summaries and advice for dairy and crop producers starting in 2016. Four other Kenyan grad students will come to UPEI to take courses toward Masters degrees, conduct their thesis research in Kenya, and defend their theses at UPEI. Their research project topics include: 1) improving cow comfort on dairy farms; 2) enhancing human nutrition through drought-tolerant gardening; 3) assessment of augmentation of traditional training methods with cell-phone based training for Kenyan dairy and horticultural farmers; and 4) program evaluation of the integrated Canadian undergraduate and Kenyan graduate student efforts.
The total project budget, including all the in-kind contributions, is valued at over $1.1 million.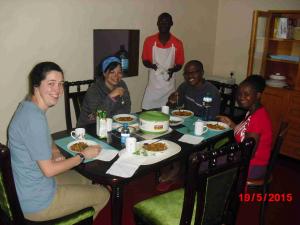 (Right to left, sitting) Joan, Muraya, Dennis Makau, Krista Simonson and Emily Egan (Vincent standing)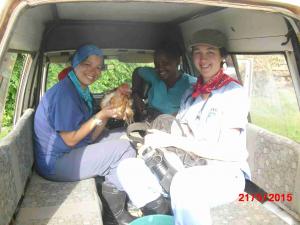 Krista Simonson, Joan Muraya and Emily Egan with their gifted chicken in the back of the taxi